ICYMI- Web Firms are Learning how to Play Politics
Sacramento Business Journal
Web Firms are Learning how to Play Politics
Posted: Friday, August 22, 2014, 3:00am PDT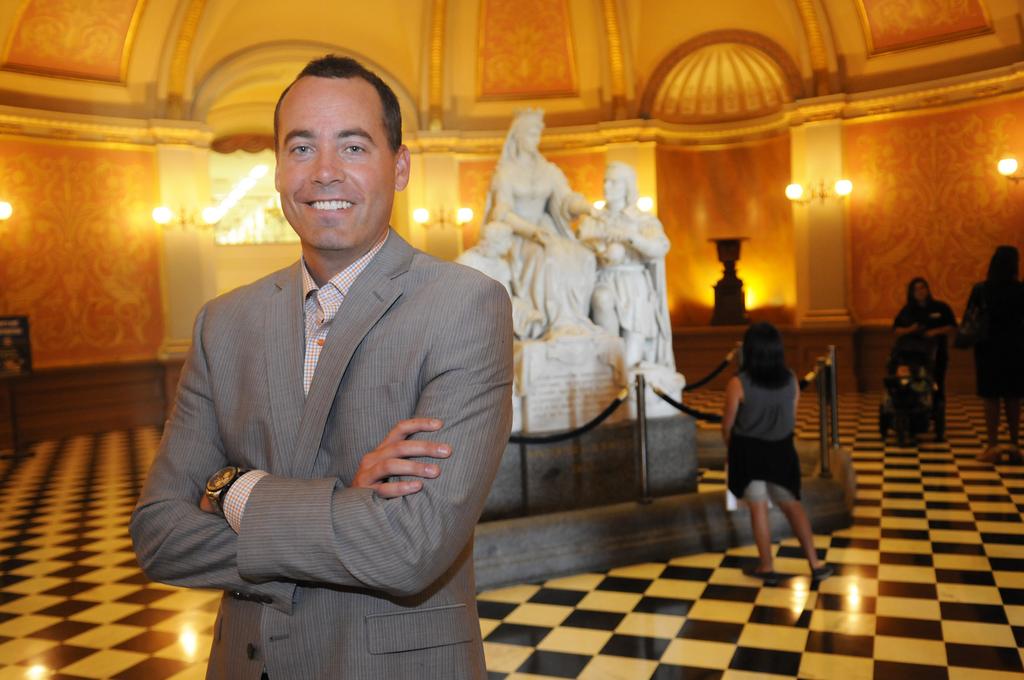 Robert Callahan is the Internet Association's California executive director.
T-shirt culture meets a button-down world
A cavalry of drivers in cars adorned with giant pink mustaches blared their horns while circling the Capitol one sunny June morning. On the steps of the statehouse, a crowd of mostly young people were rallying against regulations for Uber and its mustached competitor Lyft — the online taxi alternatives now enjoying a ballistic rise in business.
But the chanting that day was less about a company and more about an idea: that Internet businesses need freedom to innovate.
Staging political theater like this is old hat to many industries, but completely new to Internet companies. To get to this important milestone, those companies — and the entrepreneurs who drive them — had to recognize that they can no longer afford to ignore state lawmakers and regulators.
That change in mindset hasn't been easy, said Adam Werbach, 41. He's founder of Yerdle, a website that allows people to exchange goods for free.
"You're looking at a clash of radically different cultures," Werbach said. "Everyone in my office right now is wearing a T-shirt. When we interact with people in government, they're all in suits.
"Startup thinking exists in hours or days," he said. "Government thinking is in months or years. It's different."
Bridging the gap
Internet companies are learning to bridge the gap. In Sacramento on that bright June day of the ridesharing rally, standing below the protesters were several suited lobbyists and communications specialists hired this year by Uber and Lyft.
Their focus was on an upcoming committee hearing. A fatal accident last year involving an Uber driver in San Francisco awakened some entrenched interests of Sacramento — taxicabs, insurers, consumer attorneys — to a debate over who can be sued when a ridesharing driver gets in a catastrophic accident, and for how much.
The ridesharing regulatory struggle isn't over but, as the first statewide political skirmish involving the so-called sharing economy, it shows a maturation of an industry.
The issue has opened an important door for the Internet Association, the first lobby group mostly made up of household-name Internet companies like Facebook and Netflix. The group launched in Washington, D.C., in 2012 and in Sacramento this year.
Robert Callahan, the association's California director, called this year's ridesharing fight a "historic case study" because lessons are being learned by both politicians and techies, and they underscore the dual mission of his organization.
Operating out of a small, windowless office leased from a trade group for manufacturers, the Internet Association aims to persuade legislators that an unrestricted Internet is vital to everyone, not just the industry that is commercializing it.
"If California goes in a direction that really negatively impacts those homegrown startups, Callahan said, "that's going to be a tough lesson learned."
The group also must push its own members and potential members into political engagement.
The message to tech companies is that unlike hotels, taxis and other industries being trampled by Internet innovations, government isn't so easily disrupted.
"If you're not well known in Sacramento," said Callahan, "you're going to have a tough road ahead of you."
Ugly battles to come?
It's not that the titans of Silicon Valley aren't politically involved: Google spent more than $5 million in federal lobbying in the second quarter of this year; Facebook spent over $2 million.
But some in the tech world say those who work for California's booming Internet companies remain disengaged from government.
The mentality is, "We're building a better universe. Get out of my way," Werbach said.
Werbach, who at age 23 was the youngest person ever elected as national president of the Sierra Club, calls himself an outlier in tech because he doesn't view government as an "unnecessary annoyance."
When it comes to regulations colliding with Internet commerce, he predicts "a lot of ugly battles to come. Everyone has a sense that government systems don't match our economic opportunity."
Resolution only will come when the worlds of Sacramento and San Francisco grow up, said Jamie Wong, founder of Vayable, a San Francisco startup that connects tourists with locals who want to give a paid tour of their city.
"A blatant disregard for government and regulations is damaging here, and that's cloaked as progressivism and rah-rah innovation," Wong said. "But pushing back and forcing government to look at old policies … is absolutely critical."
New to the political realm
Internet startups may be new to the political process, but the larger tech industry is not. In 1943, David Packard, cofounder of Hewlett- Packard, helped form the West Coast Electronics Manufacturing Association to aid technology companies in landing government contracts during World War II. After several incarnations, the group grew into TechAmerica, a fixture on Capitol Hill that now boasts over 34,000 members.
But it wasn't until 2012 that a trade group arrived specifically for web companies like Amazon and Twitter, said Michael Beckerman, president and CEO of the Internet Association.
The organization wasn't formed over a single issue, Beckerman said. But the group launched amid the online piracy debate that pitted Internet companies like Reddit against giant telecommunications firms. It became clear that the Internet needed its own space.
The association now represents 39 companies, from Airbnb to Zynga. The group opened a California office this year — its first state office — because the Golden State is perceived as a policy trendsetter and most of the association's members are based here.
"It was the natural first spot," said Beckerman, who previously spent 12 years as a Congressional staffer, most recently for the House Energy and Commerce Committee.
Beckerman says he prefers lobbying for Internet businesses to representing traditional industries. "In a way, the Internet brings real democracy. Our issues are on the side of people and democracy. When they get involved, it makes the system work better."
New challenges for lawmakers
When it comes to governing the nascent Internet industry, the job for lawmakers is to understand when regulations are needed to protect consumers or society, said Joe Simitian, a Palo Alto Democrat who served in the state Legislature from 2000 to 2012.
In other cases, he said, disputes often are simply about old-guard industries trying to protect their turf from Internet upstarts.
"Some of these are plain old-fashioned market-share and profitability issues," said Simitian, now a Santa Clara County supervisor. "Some of these debates really are about important public policy questions. In the years ahead, it will be the challenge for legislators is to understand which is which."
Simitian, who represented Internet companies while in Sacramento but also challenged them on privacy issues, acknowledged that the incremental nature of government has trouble keeping pace with the speed of innovation.
"I think the industry has to some extent been a little slow in coming to the realization that decisions are made at the state level that are critical to their future," Simitian said.
"But I think there's a growing awareness in the role states play in regulating the industry, and I think the industry has figured out that if they aren't at the table, they may be on the menu."
###
To read the original article, click here.